&nbsp
Mark your calendars! - - Wye String Ensemble Year-End Concert June 9, 2019 (2:00 pm) at The Agora of the Community Centre, Sherwood Park Library Building
with Murray Vaasjo conducting
Admission by donation
&nbsp
&nbsp
&nbsp
&nbsp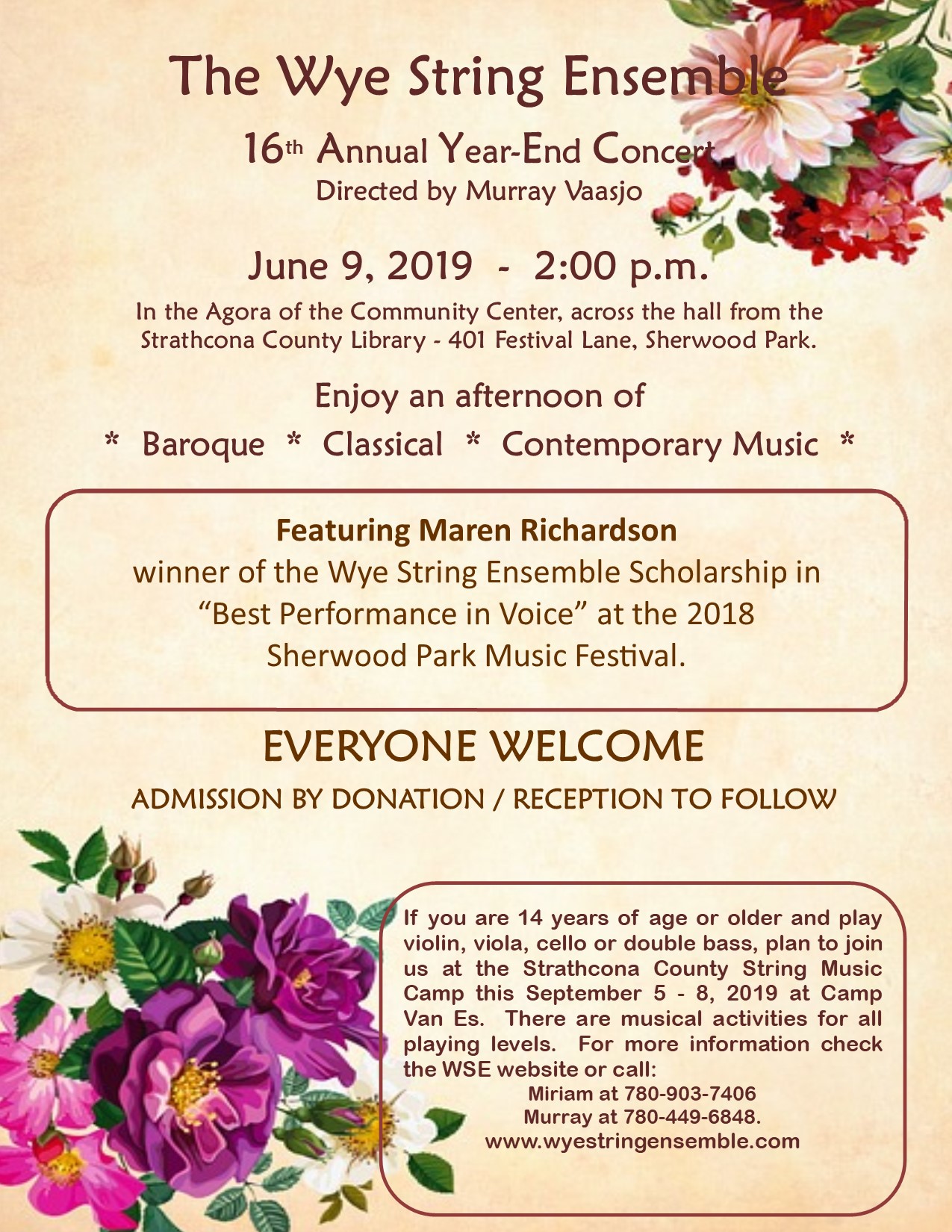 11th Annual Strathcona County String Music Camp Concert with Michael Massey conducting

(Sunday, September 9, 2018 at 6:00 p.m., Van Es Camp and Conference Centre, South Cooking Lake, Alberta)
Introduction to the 11th Annual Strathcona County String Music Camp Concert by Camp Director Murray Vaasjo
Introduction to Sinfonia in C by Conductor Michael Massey
Introduction to Aire di Corte from Ancient Airs and Dances (Respighi) by Conductor Michael Massey
Aire di Corte from Ancient Airs and Dances (Respighi)
Introduction to Langsam (Hindemith) by Michael Massey
Introduction to A Moorside Suite (Holst) by Michael Massey
The Wye String Ensemble's 2018 YearEnd Concert WHEN: Saturday, June 16, 2018 at 2:00 p.m.
WHERE: The Agora in Sherwood Park, Alberta
ENSEMBLE DIRECTOR AND CONDUCTOR: Murray Vaasjo


Faculty String Quartet Concert at Strathcona County String Music Camp Concert, September 8, 2017

[featuring Anna Kozak (violin I), Neda Yamach (violin II), Martina Smazal (viola), Julie Amundsen (cello)]
The faculty string quartet is playing Movement IV of Wolfgang Amadeus Mozart's String Quartet No. 17 in B-flat major, K. 458, nicknamed "The Hunt". It is the fourth of the Quartets dedicated to Haydn, and was completed in 1784.

>
WHEN: Sunday, June 18, 2017 at 2:00 p.m.
WHERE: The Agora in Sherwood Park, Alberta
ENSEMBLE DIRECTOR AND CONDUCTOR: Murray Vaasjo



Wye String Ensemble YearEnd Concert Photos and Recordings
June 19, 2016
The Agora in Sherwood Park, Sherwood Park, Alberta
Ensemble Director and Conductor: Murray Vaasjo

>
Wye String Ensemble YearEnd Concert with Murray Vaasjo conducting